HOW TO START BUYING ART
It's a common misconception that art is for the 'old' and the wealthy, an insider secret shared in hushed galleries and lofty auction rooms. But there's never been a better time to buy art, or a greater need.
In a world in which we spend time swiping images that reflect the jaded or hyperbolic opinions of others, many times a day, it's a refreshing antidote to experience a visual something that prompts a pause. That requires and rewards the investment of a longer-term reflection. Art slows you down, and cheers you up. And my goodness don't we need that, in these turbulent days. In fact, art has served this purpose in all the turbulent days gone by; the only difference now is that it really IS accessible to all of us.
The first piece of art I ever bought was at the Womad Festival in the early '80s; a pencil drawing, with an abstract and slightly hippy/ eastern aesthetic. The artist asked me to 'pay what I could afford.' I was a student at the time and couldn't afford it, but I had an inkling that this was an important transaction for me and the artist, and offered him the full asking price of £10.
Our first purchase as a couple was made on a camping holiday to France a couple of years later, and although I can't remember the price, (I'm quite good at forgetting these inconvenient truths) it felt like a real push but we LOVED it and I couldn't imagine leaving it in the gallery . The friends we were with were appalled at the amount we spent, but I can see the piece from where I'm sitting now, and it's travelled with us to every home we've had since and been in daily view- and that's what I call value for money.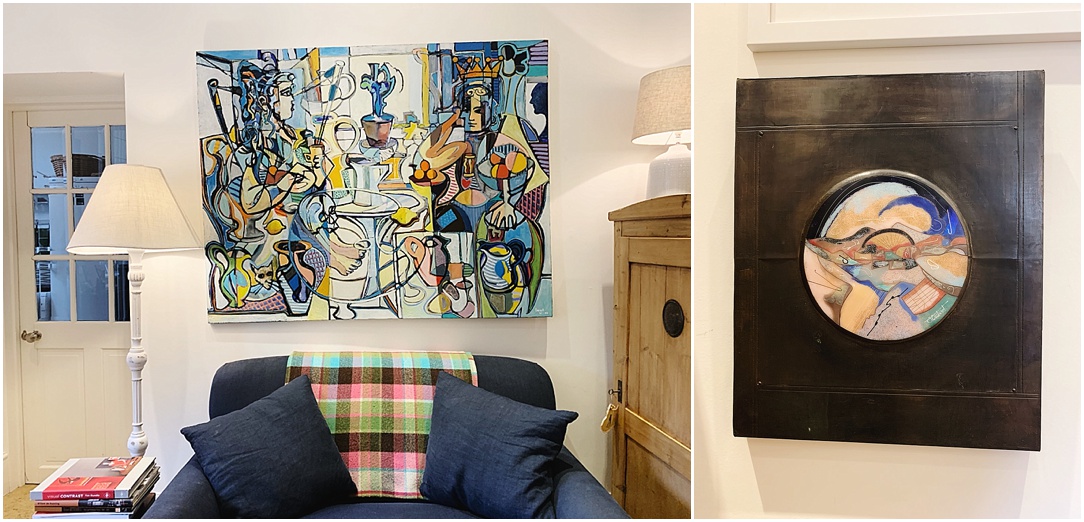 Left, 'King and Queen', by Chris Insoll. We bought this piece some years ago after meeting Chris in his gallery at Portscatho, Cornwall, and fighting a pit bull terrier… but that's another story. Right, the enamel piece 'Galigai' by French Artist Serge Castanet, one of our first purchases.
Please don't be intimidated if you want to buy art – the business of becoming an art collector is now more accessible and democratic than ever. Being decisive and deliberate about your choices rather than reacting to short term decorating trends, can be the most rewarding and addictive pastime. Here is my advice on how to make your way into the exciting, addictive world of art collecting.
Buy what you love. I urge you to choose art because you feel a stirring in your heart, not because it matches the sofa. (Though if it does match the sofa too, all well and good!) The sofa (couch, for my American readers) won't last, and nor will your taste in interior furnishings, but your art will last a lifetime and more.
There is a school of thought which says that we should buy art that makes us feel uneasy or challenges us, that if you buy only what looks 'nice', you may end up with a bland collection. 'Great art is often startling, uncomfortable and complicated. ' (Erling Kagge). I feel this is all very well if you have a large house that you can hide the uncomfortable stuff away in, but this strategy isn't for the faint-hearted.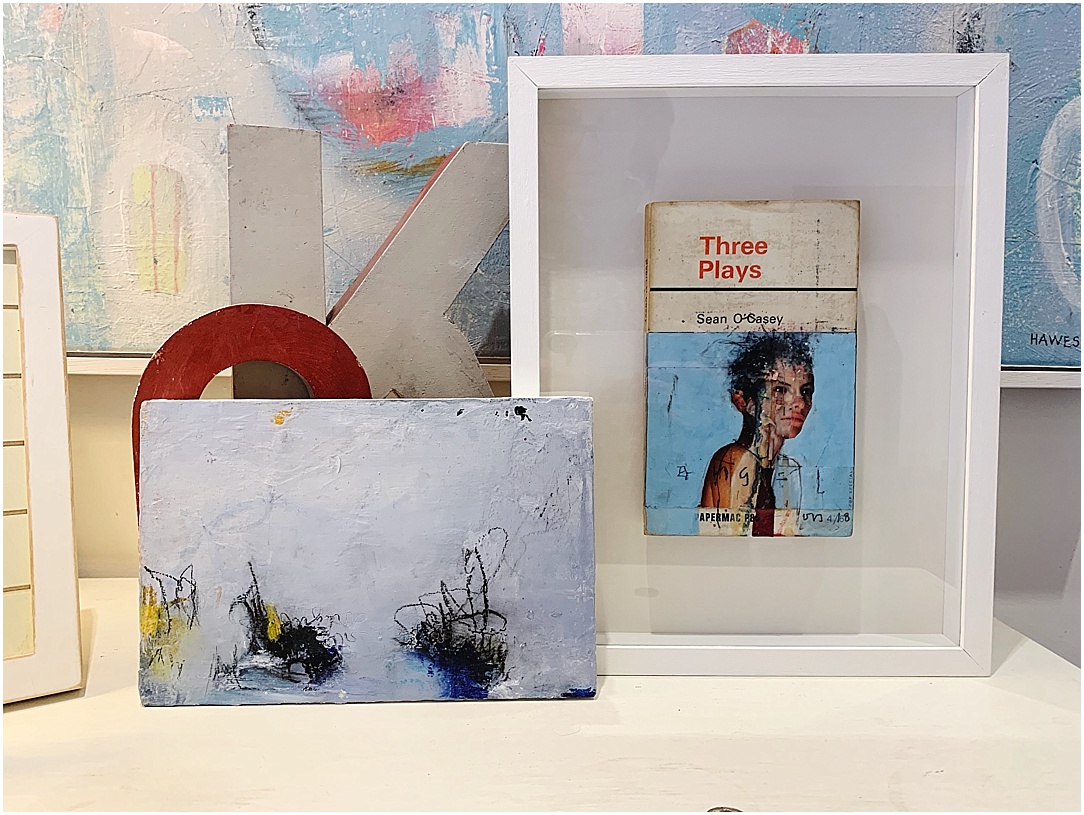 Left, oil on plaster by Ashar. Right, Three Plays, mixed media on old book by David Johnson. I'm saving for a larger piece of his! My own work in the background. For sale, by the way!
Artist Norman Ackroyd asks, can you live with this piece of art? Or even more importantly, can you live without it? Sometimes, when I've been unsure about a purchase, or it's been a financial stretch just too far, I've come away to mull it over. I know that if I can't get it off my mind I will soon be back to the gallery to arrange a payment plan! Whilst I would say that whatever the size of the painting you fall in love with, you will find a space for it- obviously, there are limits and if you go for a 2-metre giant canvas you may not have the wall space. So, take your measurements with you to the gallery!
One of the greatest democratising influences on art in recent years is the advent of social media. Instagram in particular, is a great way of connecting to artists and understanding their stories. Artists generally love to talk about their work, answer questions, and connect with their audience, and this is the perfect visual medium. I would say, however, that we are notoriously bad at overtly selling our work, so if you see something you like, ASK! At worst you'll end up making an artist feel that their work is admired, and at best you could have a coveted piece of art for your home.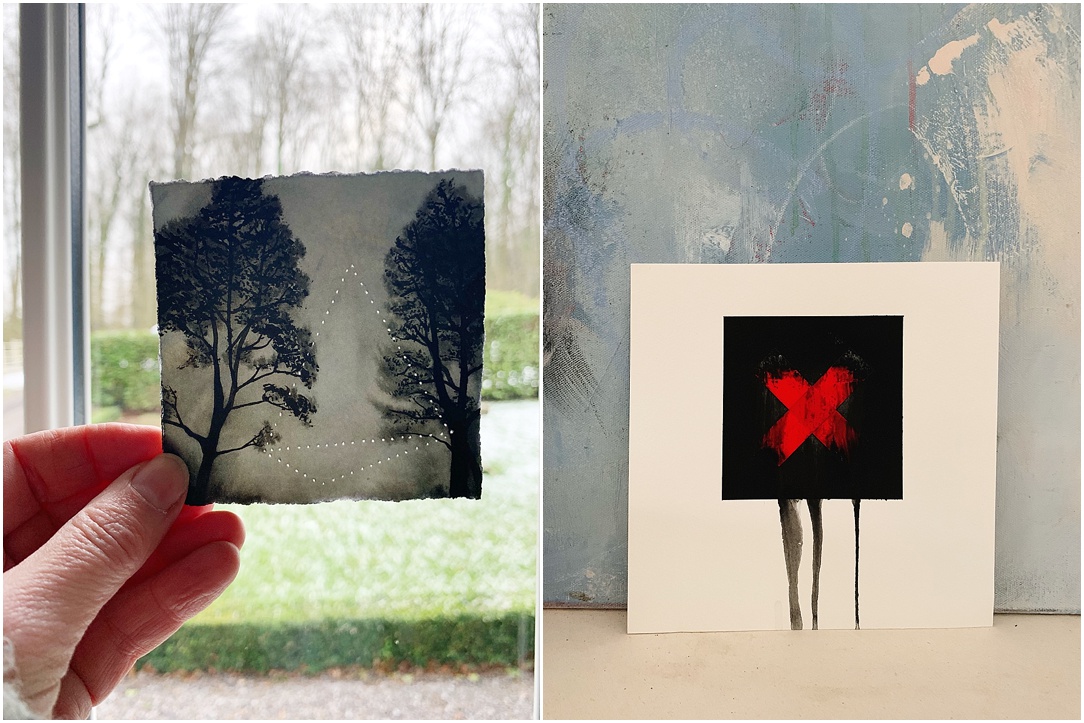 Two pieces I've recently bought from Instagram (left, Laura Wade) and Twitter (David Smith)
Art school degree shows and other student shows offer great opportunities for connections with emerging artists. You have the chance not only to find a real gem to add to your collection but giving a confidence boost to a young (or not) artist at the very start of their career. Win win!
There are other networks to tap into to help find talented emerging artists. There are numerous online galleries such as Saatchi Art and Artfinder which will help you find the perfect painting or other art.  In fact, once you start looking online the choice can be almost overwhelming. Spend time in brick and mortar galleries as well as online to really work out what you love, and what you don't.
Don't feel you have to fall for fall for the hype of the 'big names' in art. You are better to collect really good quality pieces from unknown or emerging artists than a work of dubious quality from a big name. You never know, these new artists may become the 'big names ' of the future, so buy now before their prices rise! You might be interested in exploring a particular niche, for example, women artists; political art, photography or a little-known print process. Maybe even emerging artists over 50! (I might be biased with that suggestion.) Choosing a niche like this allows you to explore in depth and potentially become really knowledgeable about a certain area, giving you more confidence about going to galleries and talking to artists and art world people.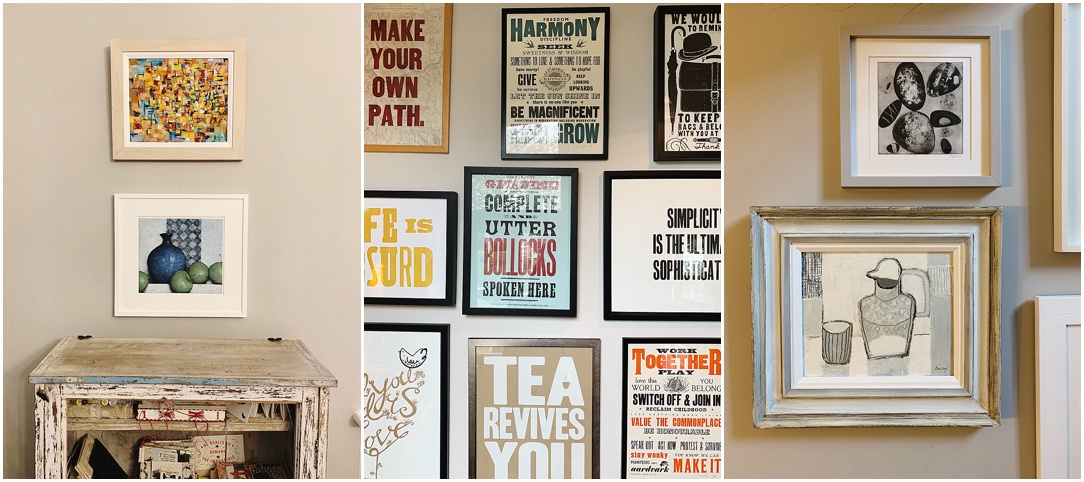 Left, top. Grace Gardner. Left bottom, Terry Whybrow Centre. My Letterpress obsession! Right, bottom . Ray Sheldon. Top is mine, an etching.
Visit galleries and open studios as much as you can. It's a great way to explore a new city or region both at home and abroad. Go equipped with questions, to engage the artist of gallery owner. At open studios you can ask artists about their personal favourites, and work they are currently working on and any future shows, and asking them which artists they admire is often enlightening and a new line of enquiry for you.
Dont rush, start with an anchor piece and build from there . You have all your life ahead of you to accumulate a collection. If you're lucky, and your relatives have started collecting and bequeathed pieces to you, you can add these, as you will pass yours onto your children.
Erling Kagge, author of 'A Poor Collector's Guide to buying Art' urges us to learn through buying -he says 'I recommend that you just start buying, that you don't spend too much time thinking. Don't beat around the bush, go out and buy three pieces. Hang them in your home or office, look at them for a few months and then reevaluate your collection and ask yourself what has grown on you. ' Your tastes will grow and develop, so don't be afraid to move key pieces around to different parts of your home as new pieces arrive.
'You have to believe in what you are seeing. You don't have to believe in a good Picasso or a late Rembrandt to know they're good paintings, but looking at piles of grey rocks is different.' he says. Good art takes time.
An 'art collection' doesn't have to comprise large canvases and expensively framed masterpieces. Works on paper, photographic art, etchings, collages, sketches, and small studies will be cheaper. These can often form the beginnings of larger bodies of work by the artist. Limited edition prints, copies of the original work, are always a good option.
Buying unframed pieces and doing the framing yourself is a way to get maximum value from your art. A great mat and frame can give a small piece more impact. Professional framing is always my preferred option, as your framer will give you the best advice regarding how to enhance the impact of your art as well as ensure its longevity. But if you happen to have a couple of Ikea frames on your walls, I won't judge. The important thing is the art. (I may even have a few myself!)
It's a good idea to set a budget. Maybe an annual budget; you could decide to splurge on one key piece or instead choose a number of more affordable pieces.
For any art you wish to buy, understand how art is priced. Are there extra costs associated with the purchase, such as framing, shipping and insurance?
Keep the paperwork – invoices and receipts, and any certificates of authenticity and seek evidence of provenance if you are not buying directly from the artist. This can be useful if you want to sell in the future, arrange insurance or seek a valuation.
Explore the various no-interest loans to art buyers, for example, the 'Own Art' scheme, which has been operating since 2004 and has enabled more than 50,000 customers to buy art from a network of 300 galleries in the UK. Many artists selling direct – such as myself, offer repayment schemes to spread the cost.
Even youngsters can start collecting early- there is a new wave of millennial collectors, in their 20's- my children included and they have negligible disposable income. Through talent swaps, Etsy and eBay and the thriving local artisan market scene in Bristol, they are managing to collect early stages of their own art collection. Of course having an artist as a mother helps, too!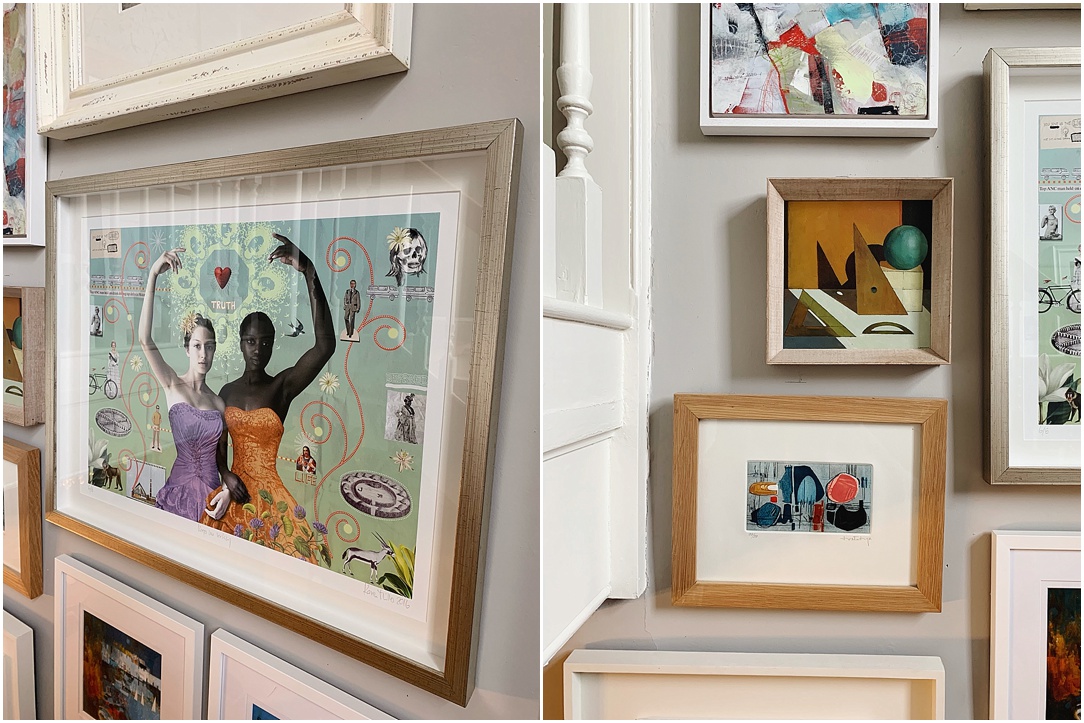 Left- this piece by Karin Miller we brought back from Cape Town. It brings me joy every day as I walk past. Right, top, my own art. Centre, James Stewart (not that one) Bottom. limited edition print, artist unknown
Yes, art is a luxury. But it doesn't have to break the bank. Don't wait- there's no better time to start collecting art than right now. It will do more for you than make your home look pretty. Even now Richard and I look around our home and talk about the stories behind many of the pieces we own. They are a connection to a shared history, a moment in time, and very often to the artist who created them. We don't regret buying a single piece.
Top image- Kiss and Tell, Alice Leach. Gouache on dyed paper 2015.